---
BRONCO RULES
rev 3/18
GAME:
Game days and times: Tuesday & Friday @ 5:30 PM

Umpire's must be PONY patched to umpire behind the plate, and at least 16 years old for the bases.

It is the umpires decision to call a game at any time due to darkness. Player safety is always the main concern.

A game can be started with only 8 players on a team but, 1 out will be taken each time the 9th batting position is reached (unless both coaches agree not to take the out).

Make up games are to be re-scheduled as soon as possible and are the responsibility of the HOME team. If efforts to re-schedule are made but not reached, contact Jamie Wilkey as soon as possible 815-791-6599

If a game is called for any reason, it shall be a complete game if four innings have been completed, or it the home team has scored more runs in three innings or three and a fraction innings, than the visiting team has scored in four completed innings.

If a game is called for any reason before it is a complete game, as described above, or when the score is tied, it shall be considered a suspended game and shall be resumed from the point of curtailment at the time scheduled by league officials.

If a game is called for any reason in an uncompleted inning, after having reached complete-game length as described above and the visiting team ties the score or takes the lead in the uncompleted inning, and the home team does not tie the score or retake the lead in its portion of the uncompleted inning, the game shall be considered a suspended game and shall be continued from the point of curtailment at the time scheduled by league officials.

Ten run rule is in effect. 15 runs after 4 innings or 10 runs after 5 innings.

Game length is 7 innings. Extra innings are allowed.

There is NO time limit concerning game length.

Team enthusiasm is encouraged. All player chatter must be positive and directed only towards their team and their teammates. At no point can a team chant towards their opponent. Examples include "hey batter-batter swing", "slaughter rule", "yeap", etc. If a team communicates negatively towards their opponent, the team Manager will be warned. If the issue occurs again, the team will forfeit the game and the League Director will address accordingly with the team Manager.

Any player in the starting lineup who has been removed for a substitute may re-enter the game one-time (starters only). Players shall return to their original place in the batting order only.

All other rules not addressed above are governed by

Pony rules

.
BASERUNNING:
In a play at the plate the runner must slide, or can be called out.

The umpire has sole judgment on the play.A courtesy runner can and should be used for the catcher only, with 2 outs but is not required.
HITTING:
PITCHING:
The pitching distance is 50 feet.

Pitching limits are 6 innings per day and 9 innings per week. The week starts on Monday. 40 hours rest is required after 4 or more innings on the same day. Time is computed from the start of the game.

Drop 3rd strike is in effect.

One pitch consists of an inning pitched.

Once a starting pitcher is removed from the mound and a new pitcher is inserted, he (the starter) can re-enter as the pitcher 1 time (provided he has sufficient remaining innings to do so).

On an intentional walk, the pitcher can throw 4 balls – or – the defensive coach can motion 4 fingers up to the plate umpire and direct the batter to be walked without a pitch being thrown.

A pitcher cannot wear wrist bands or batting gloves.

If a pitcher hits 2 batters in an inning or a total of 3 in the game, he must be removed from the mound.
FIELD/DEFENSE:
Infield fly rule is in effect and must be called by the umpire's judgment.

A safety base must be used at First Base. Both sides of the base are in play for the runner and defender. If there is no safety base in place before the first pitch is thrown, the home team will forfeit the game.

A defender cannot fake as if they have received the ball in an attempt to fool the baserunner. This could make the runner slide and possibly get injured.
EQUIPMENT/BATS/MISC:
Bat Rule:
The following bats are legal for use in 2018 Tri-County Baseball contests:
Any non-wood bat containing a silkscreened or permanently marked BBCOR label as detailed in section 1-3-2 of the NFHS baseball rules book or;

Any bat 30 inches and under that has a greater than minus three drop provided the bat barrel diameter does not exceed 2 1/4 inches or;

Any bat 30 inches and under that has a greater than minus three drop and a barrel diameter no larger than 2 5/8 inches provide that bat contains the USA Baseball logo or;

Any wood bat that meets the NFHS standards as detailed in section 1-3-2 and 1-3-3 of the NFHS baseball rules book.
NOTE 1: Any bat 31 inches and over must meet the NFHS bat guidelines and contain the BBCOR label.
NOTE 2: Any bat 31 inches and over and has a greater than a minus 3 drop with the USA Baseball logo is an illegal bat.
NOTE 3: Any non-wood bat with a barrel diameter greater than 2 5/8" is illegal.
**NOTE 4: Effective with the 2019 season, no bat with a 2 1/4" barrel will be legal.**
The following are examples of legal and illegal non-wood bats. This list is not intended to be all inclusive or all exclusive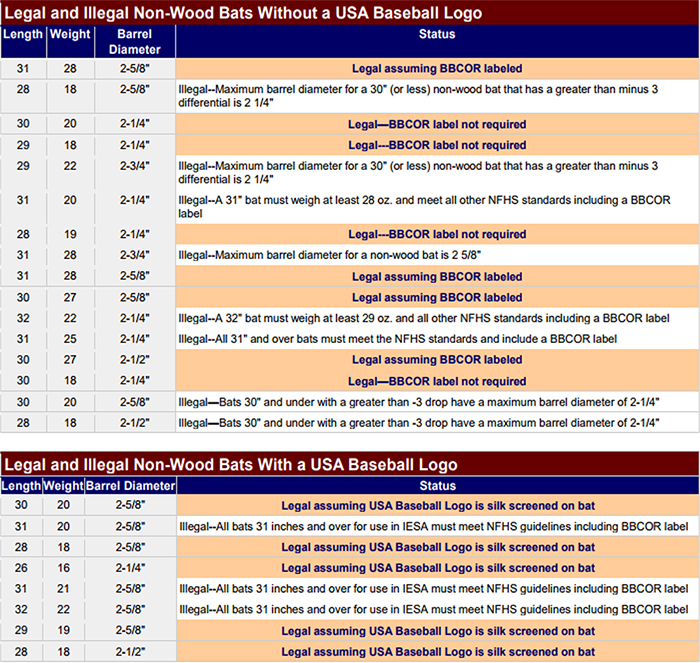 TOURNAMENT RULES:
1 - In 1st and 2nd place game and 3rd and 4th place game there will be no rest rule in effect.

2- A pitcher may pitch a total of (13) innings for the tournament week.
REMEMBER NOT TO INJURE A PITCHER JUST TO WIN!!!